Much raved OxyMask by 美人语 Beauty Talk, and i will be reviewing it here.
Beauty Talk OxyMask
Whats so good about this Oxymask by Beauty Talk?

This is one of the most rave mask that people have been talking about, the Bubble Mask, or oxygen mask!
Type: Bubble Mask

Characteristics: When applied to face, bubbles will appear within seconds! my skin can literally feel the bubbles popping.

Suitable: all Skin types

Helps in:


Repair,
Clean,
Moisturizing:
Nourishing,
Firming,
Whitening,
Gentle exfoliating,
Balance skin oil
Supplemental oxygen
This is one of the most unique and interesting mask that i had tried.It has so many purpose in it and after using, can feel that my skin feels smoother and cleaner. My BB bought this for us to use and we tried it out that night we bought it.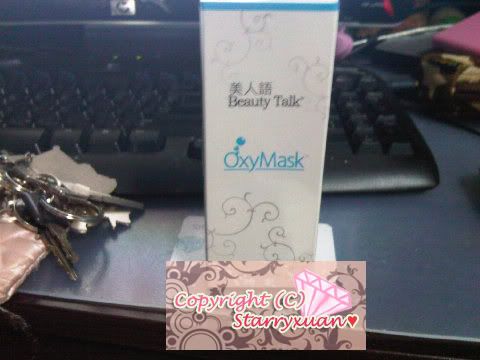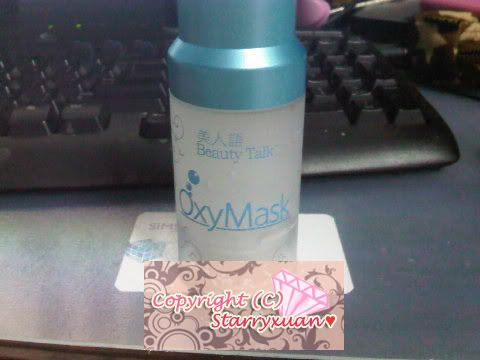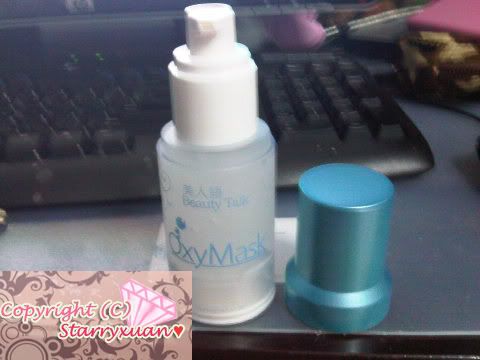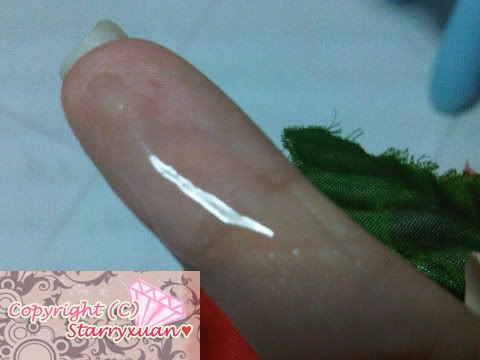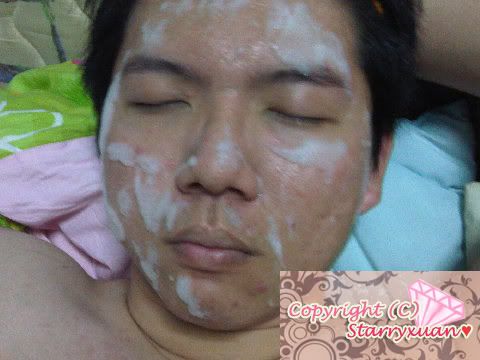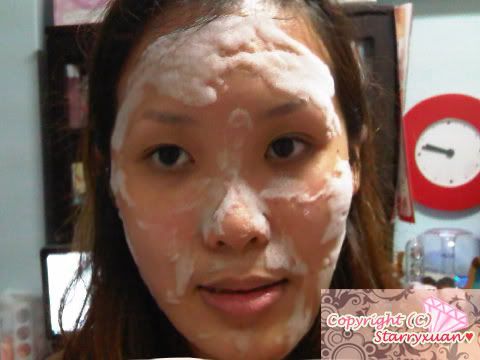 It feels like your face is soaked in a bubble bath with the bubbles "popping" on your skin! Nice and refreshing. I didn't get a chance to take a after photo as i was busy cleaning the mask and forgotten to. I think the only thing i don't like about this mask is that before i finish applying my mask for my whole face, the bubbles already appeared! (I cant create a full face of bubbles :()

Its a wash off mask. The SA told me that when the bubbles finish "popping" (no more bubbles), i can proceed to wash off my face.

Beauty Talk oxygen mask rubber contains a high oxygen essence and gentle cleansing element, will be able to add oxygen to the skin while cleansing the skin surface of dirt

And contains Witch Hazel extracts to balance oil secretion, as well as Hyaluronic Acid, Antarctic bacteria extracts, marine extracts starch, microcrystalline to keratin,

Hyaluronic acid, deep moisturizing factor and deep moisturizing factor and other nourishing ingredients for skin to repair, moisturizing, nourishing the same time gentle exfoliating

To know more, i've found some more FAQ from Google
1. Why OxyMask able to produce the bubbles? Are all the bubble is oxygen? Is it oxygen really can be absorption by our skin?

Some consumers hear that OxyMask able to produce the bubbles, were misconception that oxymask have the similar function with the hydrogen peroxide solution, actually is not completely such!
This product does not contain hydrogen peroxide (H2O2), bubbles getting up and release the oxygen from OxyMask after applying the mask onto face.
When these products get touch with the air, due to the temperature and the humidity change, solubility of the Perfluorodecalin ( Oxygen Carrier ) also willing to change, therefore the product can slowly release the oxygen out. When the product penetrates into the skin, it also releases the oxygen for the surround areas of skin cell. Experiment proved that using this product after 60 minutes, may increase 10mmHg skin oxygen content, increases the skin moisture 60%, increases smoothness 28%, and if long-term use may continue to guarantee the moisturize and reduces wrinkle.


2. Why after using OxyMask, the skin may become more whiter, younger and fresh-looking?

Everybody knew in the human red blood cell contains heme, the main function of heme is to carry out the oxygen and carbon dioxide. OxyMask includes a unique ingredient name Perfluorodecalin, it?s chemical property similar like heme, may bring the large amount of oxygen, and usually uses in the medical as blood substitute. This ingredient already had the world patent registration for the skin care product application, also patent for the pledge, Chinese, Japanese, and South Korean. American patent also already delivers waiting for approve. OxyMask raw material imports from Germany, beside this Perfluorodecalin is the main ingredient, also add in some natural moisturize ingredient such as Sodium Hyaluronate, Hayashibara Trehalose, Saccharide Isomerate& Palmitoyl Pentapeptide and so on, in the mean time while increases up the oxygen content, also helping skin become more whitening and reduce wrinkles functions.




3. What mysterious function of this [Liposome Bio-Technology] that OxyMask has?

Our skin has one layer name sebum membrane is to protect the skin from injury by outside, but these sebum membrane also rejects all the nutrient enter easily into our skin.
Skin specialists have developed an Advanced Technology name [Liposome Bio-Technology], which is lipophilic and similar with our skin structure, so OxyMask can penetrate effectively onto the deeper skin, and to release pure oxygen with slowly, continuously and enhanced the oxygen concentration in skin.


4. Is OxyMask suitable for daily use?

All the OxyMask ingredients were gentle, suggested use 3 times in a week, but also very depend on individual flavor for increase or reduce the uses number of times.



5. The differential between OxyMask and Hydrogen peroxide!

Beauty Talk OxyMask does not contain any ingredient that related with hydrogen peroxide! If the skin contacts any ingredient of hydrogen peroxide, it can possible let the skin instantaneous whiter, but it also damage the skin cell immediately! However, OxyMask contains highly pure oxygen, if long term used OxyMask, it can be improved skin texture, skin becomes more moisture, reduced fine lines and melanin.




6. I have pimples or sensitive skin problem, can I use OxyMask?

For the pimples and sensitive skin problems, in order to avoid stimulating excessively, all the skin care products should be gentle.
OxyMask very suit for these 2 types of skin it is due to very gentle, oxygen also for anti-bacteria, detoxification, so the skin can rejuvenate by itself with enough oxygen. Therefore, long-term use may improve pimples & sensitive.


7. When use OxyMask, I felt has some itch, is this normal?

If you are sensitive or dry skin, when first time use it, maybe you will feel slightly pricking, this is because the oxygen is penetrates into the skin, the process of activation skin cell! If you really worried causing the allergic, we suggest after apply the OxyMask on face after 5 minutes, clean it up by water (5 minutes already successful penetrates into the deep skin): Afterwards apply skin care product that usually use to enhance the absorption.




8. Should I need to do exfoliating before using the OxyMask?

That is not necessary to do any exfoliating. OxyMask contain exfocellia which removes dead skin, softens the appearance of fine line and wrinkles.
Therefore suggested using 3 times per week, it can helps you to remove dead cell as well as to enhance oxygen level, and helping clean the skin in deep regularly, always leaving your skin more supple!


9. Why we still need extra supplement of oxygen?

Theory same as with vehicles have to refuel for supply the power of energy, the oxygen we breaths must supply to whole body organ for daily operation, only 7% oxygen will delivered to our skin.
Oxygen play very important role in maintain healthy skin. If the oxygen content is sufficient, skin cell will more supple result of highly production of collagen to keep the elasticity.

I've bought from SASA for about $50+ i think cos BB card has promo during that period of time. But now, its retailing at $89.90 if i'm right. Spend if u have the spare cash for this. Its nice! Usage is about 50 times.