It's been a long time since i place an order from gmarket. At least 5 months? and once i came back from Korea, i couldnt resist place an order!
I bought 3 pairs of shoes (in need of new shoes!), 3 bags (oops) and some 'wants which is not needed'
Bought some stuffs from Etude house and Holika Holika :) My mom and i has fallen in love with that brand!
Free masks given!
Finally a cute toiletries bag for me to bring when i go over to malaysia. I always have to repack! I need a fixed bag to bring! Hate packing! T.T
My 3 pairs of shoes! I realized i dont have any green shoes!
Shipping was very fast. I ordered on Friday and i received them on the following Thursday :) Thumbs up!!
Going to haul again! I miss shopping from Gmarket :)
Here are some EOTDs that i tried over the week :)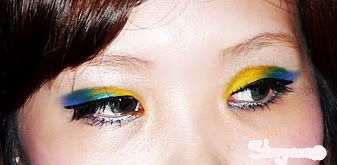 I just started wearing Geo Mimi lens is brown. I thought they were damaged as they stings my eyes real bad, but after few days of soaking and cleaning, finally they do not irritate my eyes :)