Last month, i bought this Barbie Big Size Circle in Blue for CNY and here is my reviews for it!
i bought mine at
Pinky Paradise
and i found out that there isn't much reviews for blue, thought it would be pretty!
Here is what i receive from
Pinky Paradise
! a pretty hippo lens case with it!
It is fab!!! This goes in to one of my fav contact lens! It really enlarges your eyes by many many! The color is obvious when its bright but at night, with dim light, it feels like my iris is huge, as the color is not obvious!
Pros: Enlarges eyes by many many, pretty color, not much irritation, only feel strange cos the lens is bigger than normal, comfy
Cons: Makes my eyes dry, i keep tearing and i find that if i wear long hours, my eyes get even more teary! People keep asking why i cry! T.T, colors not bright enough, when no flash, the blue is not obvious
Buy again?: not in this color, other colors maybe ;) interested in the violet ones!


Here are the comparison, my normal eye and with barbie contact lens!

*naked eyes! without makeup!fugly*
More pictures! My CNY look wth the contact lens! shall go more into the makeup on the next post!
with flash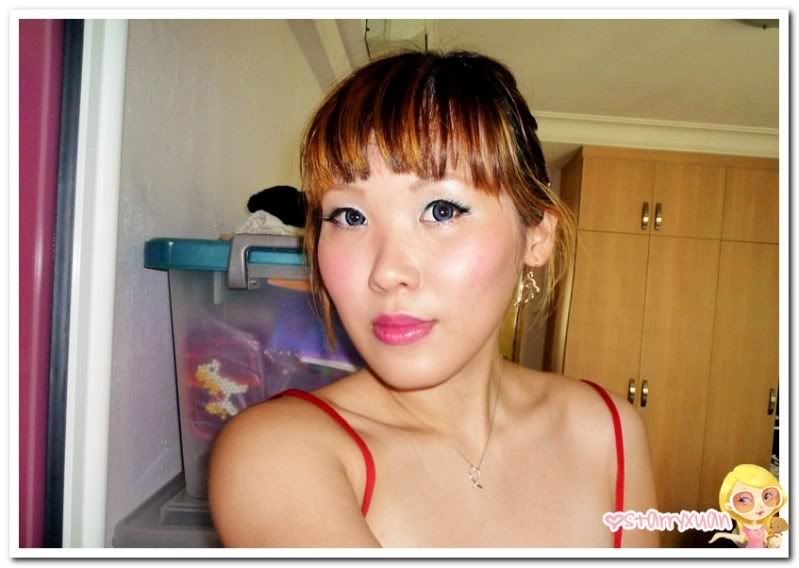 without flash
I hope to wear different color contacts every month! its a must have! Next contact:
Adult Violet
Pinky Paradise
shipped out my item(s) in a day and i get it in the same week! So happy with their service! you can find them at
http://www.pinkyparadise.com/
.
*P.s i did not get sponsored nor paid, just like their service and the lenses ;)*