I went around the city area, Sephora, beauty store but i couldn't find the small set for this collection. I wouldn't want to splurge on big bottles since i don't do my nails often and i have yet tried the colors. In the end, i ordered my set from Ebay :)
I got mine in these tiny little bottles and they really depletes very fast! Now i'm tempted to buy full size bottles!
Here are some swatches for the colors
(Alice and hatter color i painted on my toes as i think that it will be too striking for my work :P)
Absolutely Alice
This is a very bright and shiny blue. Reminds me of painkiller color from Urban Decay. I have to paint about 3 coats to get this color as it is like filled with blue glitters on a transparent liquid! Nevertheless, i really like this color. This shall be on my rebuy list. (I'm a sucker for glittery/shiny/sparkling stuffs!)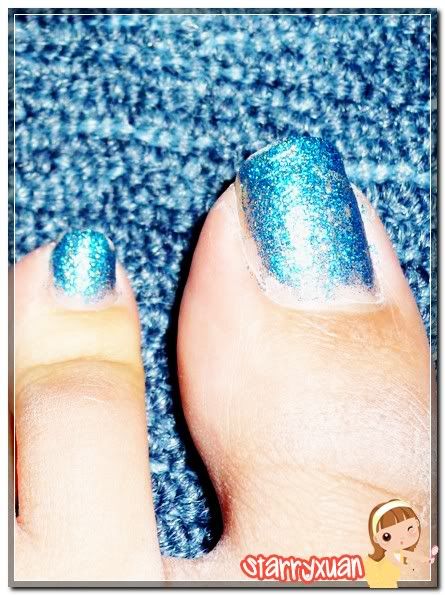 Mad as a Hatter
I must be mad to be unique to love this color! At the start, i really do not know how to name this color... Taupe? Purple? In the end, i gave up and name it the Metallic color. I also don't know why. It doesn't really appeal to me at the start but im starting to love it :D Its very unique and SPARKLY. Maybe im really going mad =P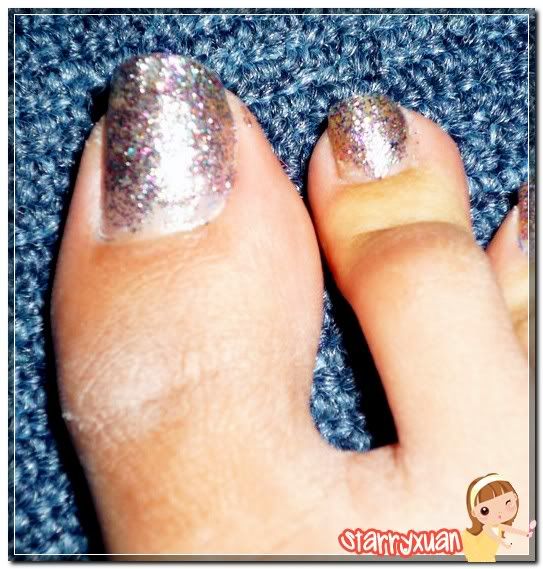 OFf with her Red
When i heard this name, the first thing i thought was about the Red Queen. Gosh, i missed her in the show :P I would maybe name this tomato red? something orangey red, not as Thanks so Muchness. Its very creamy, matt, no glitters no shine, Reminds me of the red packets i received on Chinese New year :P I don't really fancy this as much as Hatter and Alice but i would like it cos of red queen and maybe the uniqueness of this color :P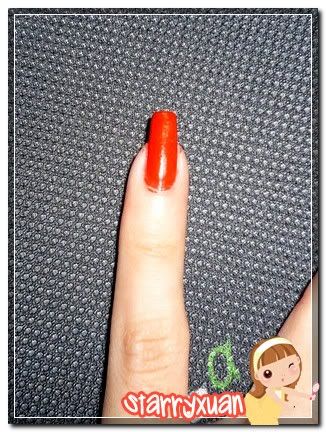 Thanks so muchness
I thought we will have something dark, maroon, black, pearl something to represent the White Queen but we have something new. Its a deep red and has a glossy feel. I think i like this least of all as the color is more common than the other 3 but this color would match so nicely if i'm wearing black. Its very pigmented for this color, 2 coats will do the trick. (PS. Look closely, there are micro-mini-small red glitters in it :P)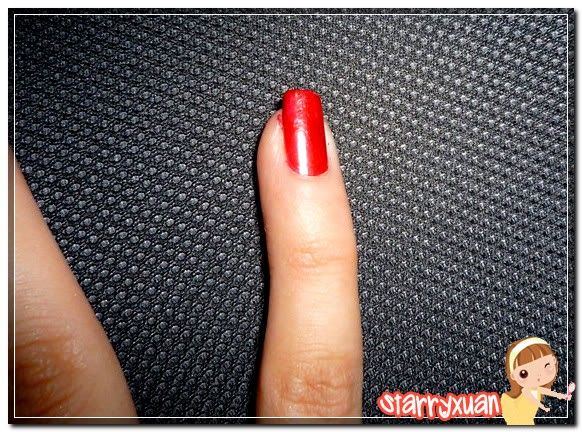 Overall i really love this collection and the colors i would rebuy most likely will be hatter and alice. If i have the extra, Would love Off with her red too! :P
Disclaimer I like to spend money of beauty stuffs and item(s) here are being bought by me.