I did not know how i should show these 2 pairs falsies out, therefore i decide to do one FOTD at home :)
I don't know if you like tutorials, if you do, tell me! ♥♥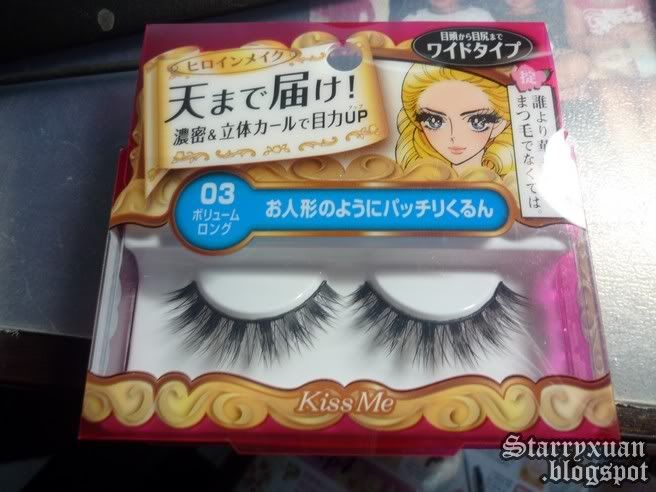 Kiss me Heroine Lashes!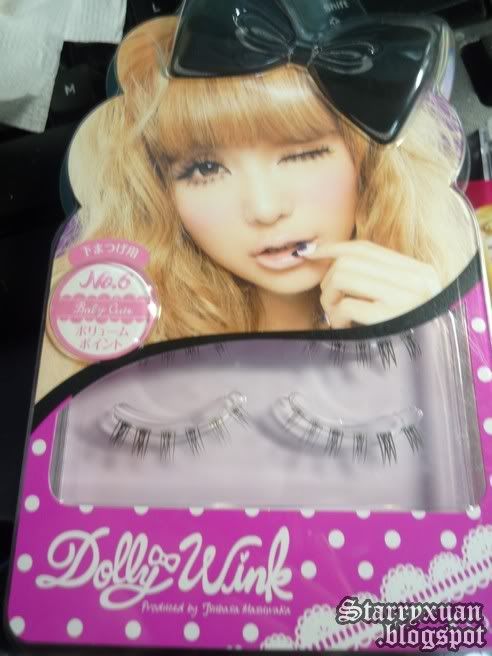 Dollywink No.6 bottom lashes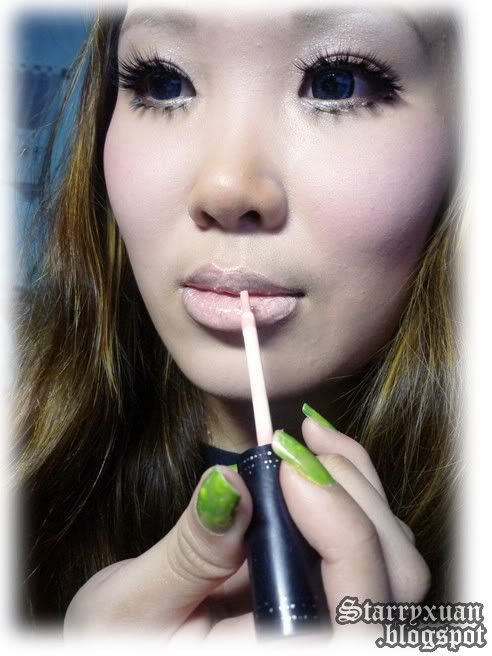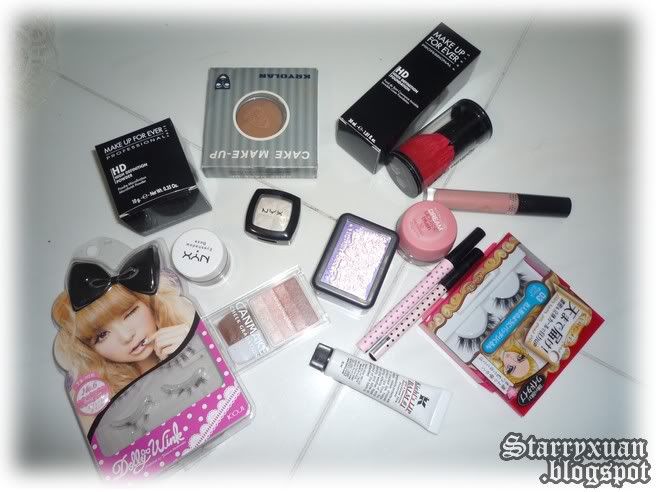 My tools
- Dollywink bottom falsies
- Kiss me heroine falsies
- NYX eyeshadow in Geisha
- Dollywink Pencil Eyeliner
- Dollywink Liquid Eyeliner
- NYX Eye Primer
- Canmake cheek gradiation (brown)
- Canmake Blusher
- Maybelline Mousse Blush in Pink Frosting
- MUFE Foundation
- MUFE Powder
- Krayolan Shading powder
- highlight Powder
- Canmake Nudy Lips in Strawberry Whip
- Etude House Lip Concealer
- Kiehls Lipcare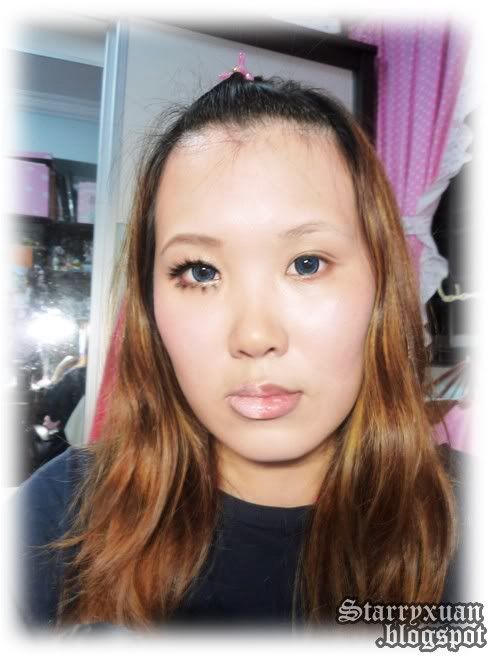 Half makeup face :P I look like a monster right now!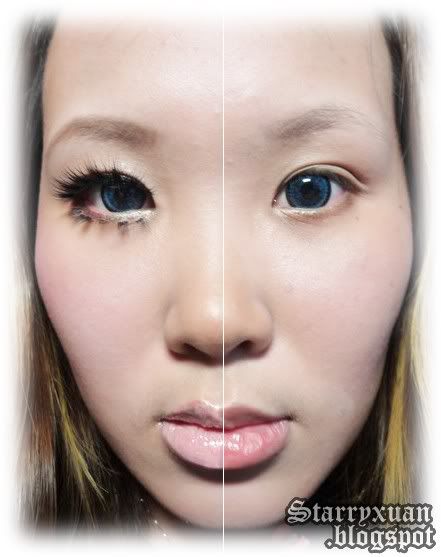 Close up difference. I know the blusher isn't very obvious. i flushed easily :)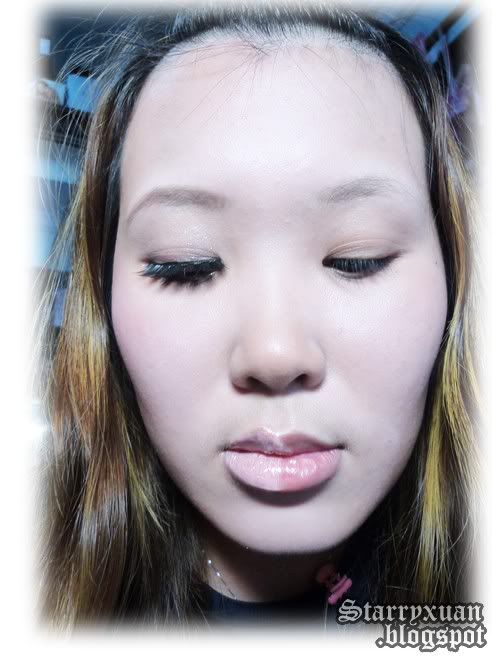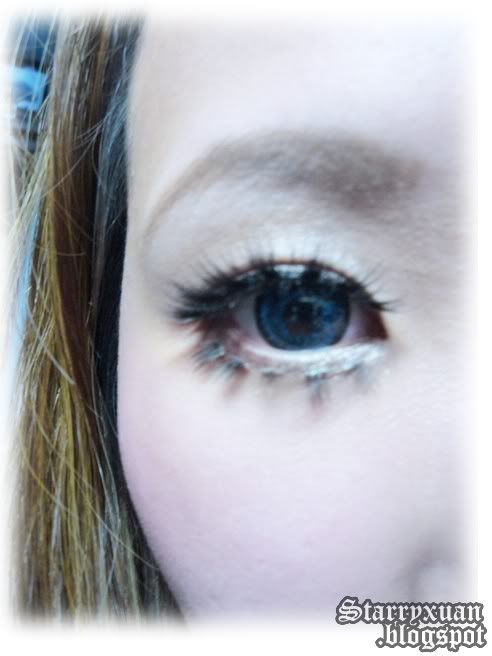 Close up for lashes :)

Steps
- Start by drawing out your brows :)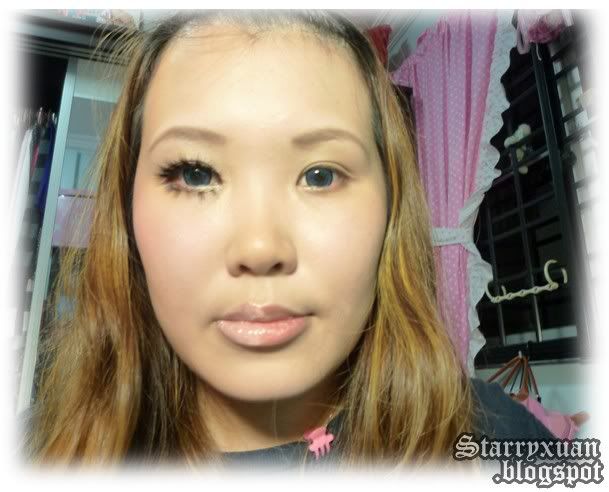 Eyebrows done!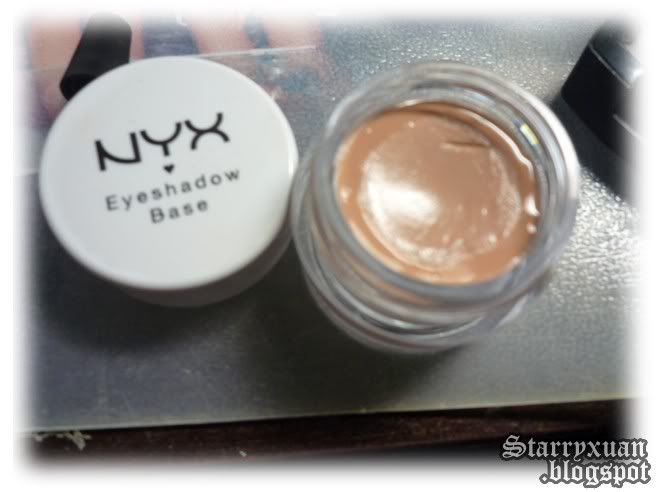 - Apply Eyeshadow base on eyelid..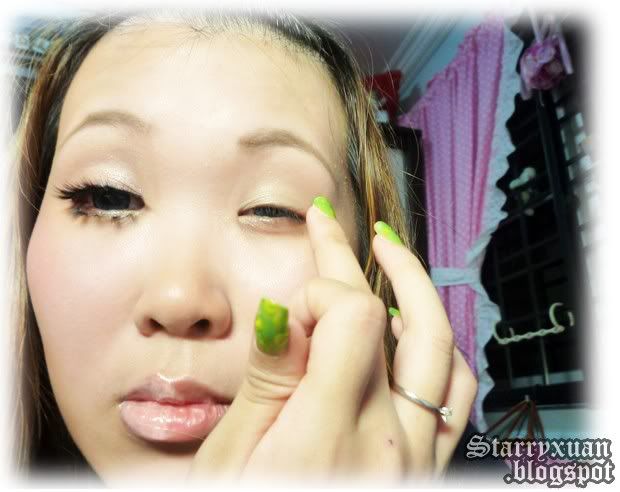 *i missed out a few images but here are the steps*
- Using the pink tone from the canmake palette(2nd one from the bottom) apply on lids.
- Then use a mixture of browns (top 2 colors) and apply near the lash line.
- Use NYX eyeshadow in Geisha and apply on brow bone to highlight.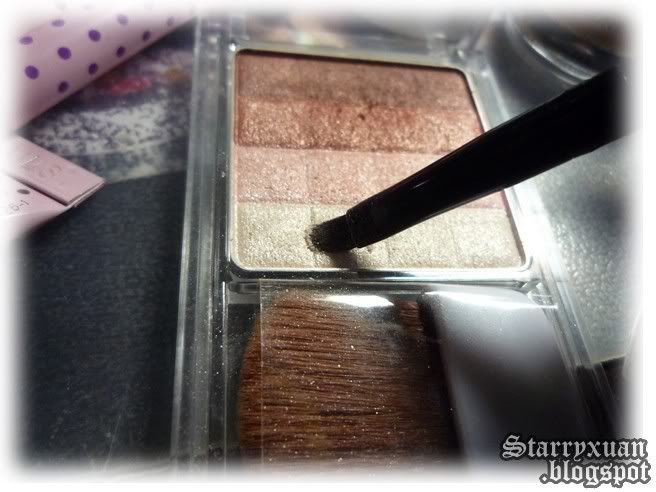 Use the pearl color from the palette and apply to the inner color of eye.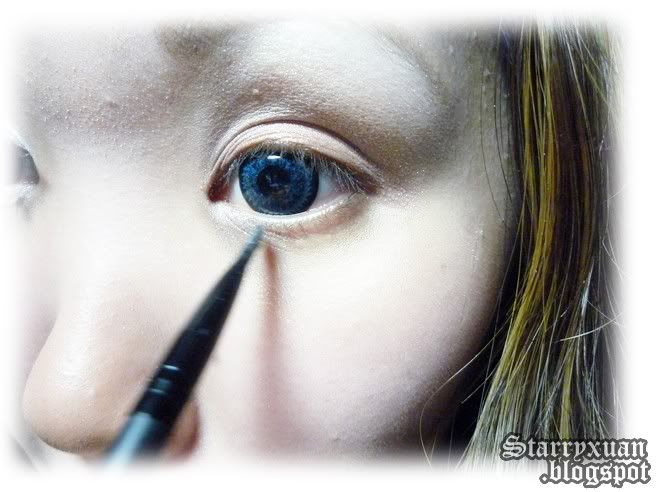 use a mixture of browns and apply it to the outer color of bottom lash line.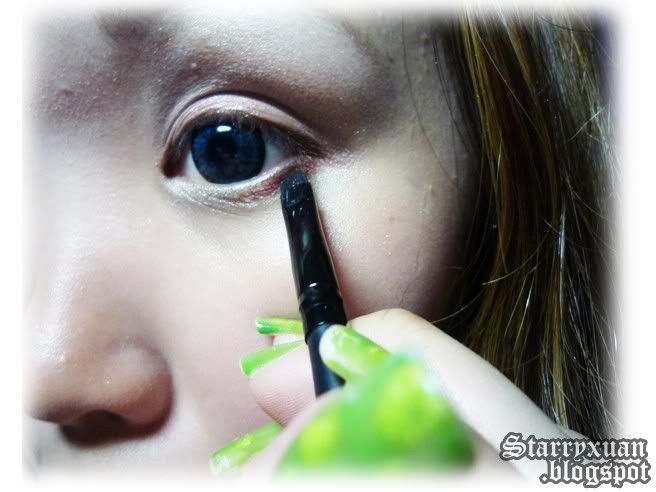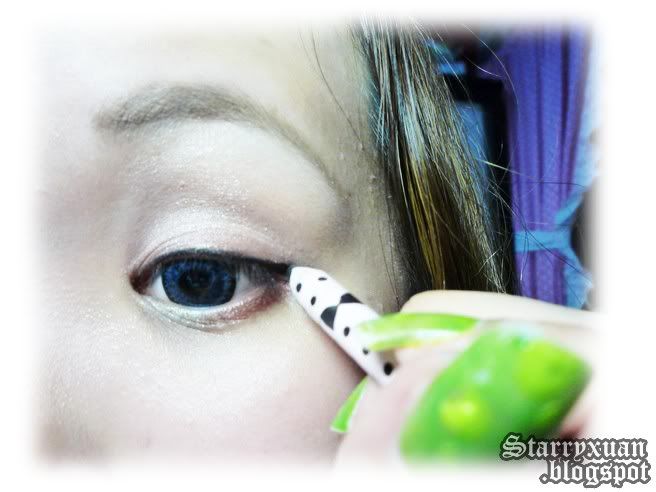 Next, i use Dollywink black eyeliner to line my eyes.
to make the black color intense, i use a dollywink liquid liner over the black line.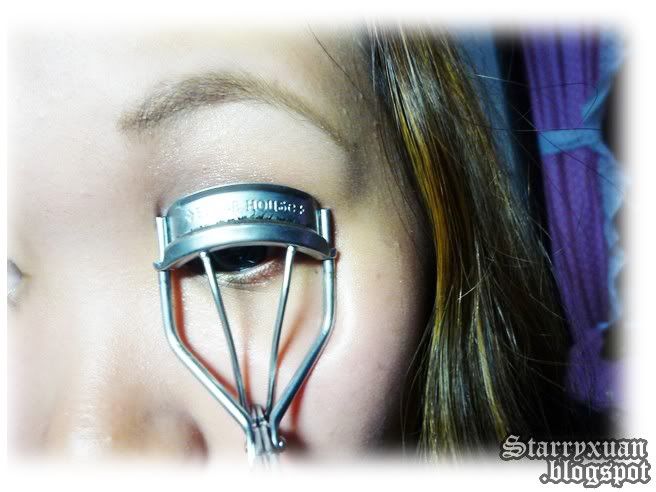 Next use a eyelash curler to curl the lashes.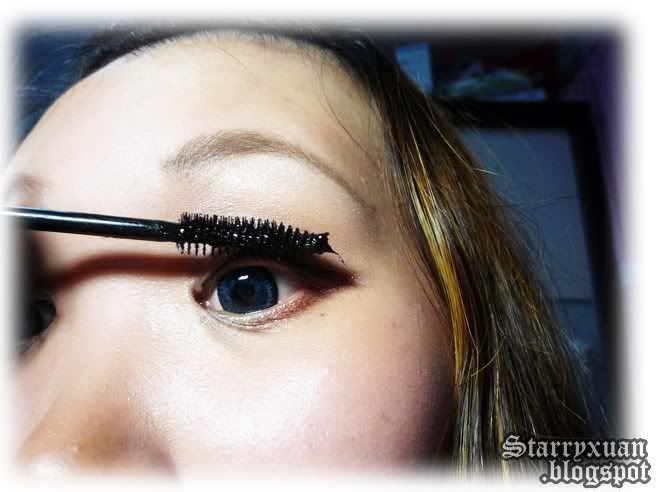 I used Anna Sui Lengthening Mascara for the lashes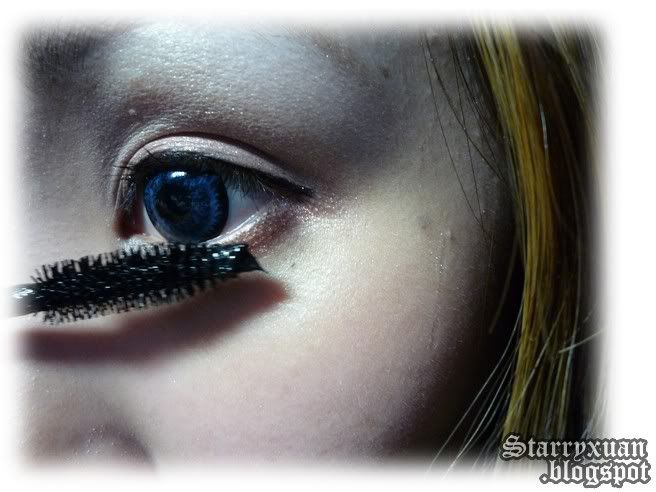 Upper and lower lashes :)
Next up is the falsies!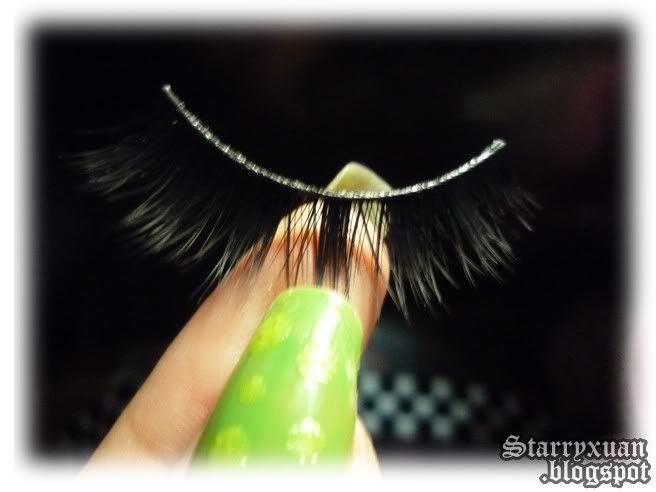 Apply glue on the falsie and wait for it to be half dry.
Then apply as near to your real lashes as possible.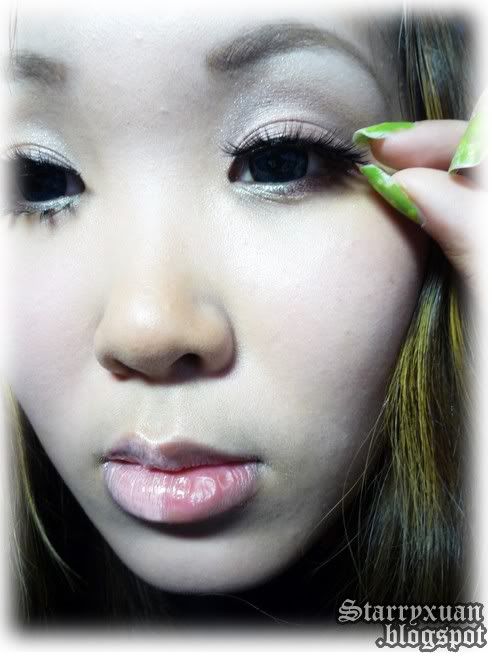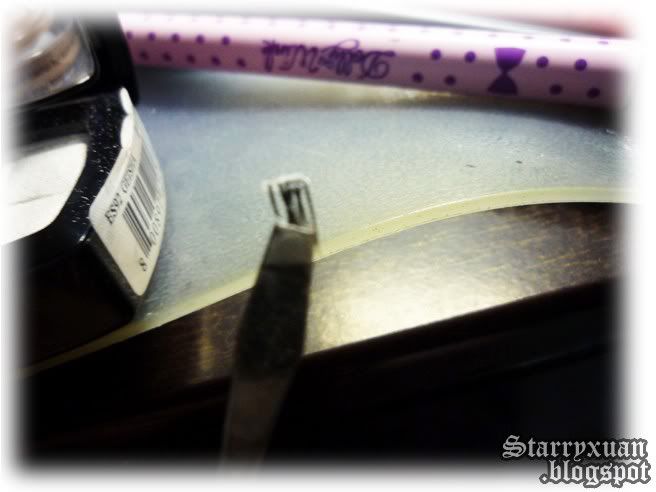 For the bottom lashes, as its very small, im using a tweezer for them. Apply near to your bottom lashes, leaving a small space.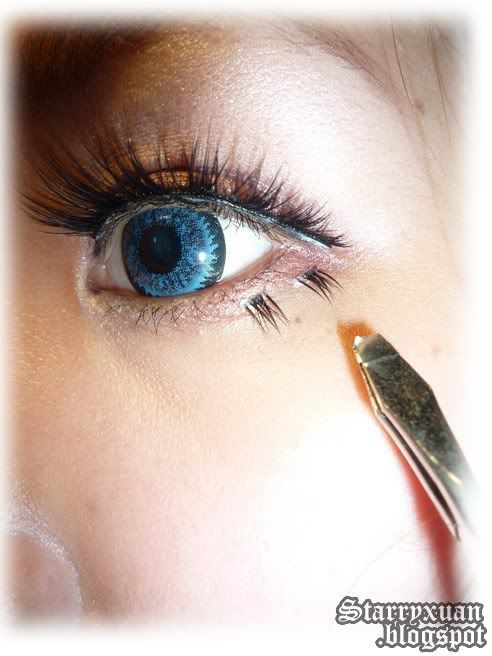 something like that. *PS. im still not very good with bottom lashes*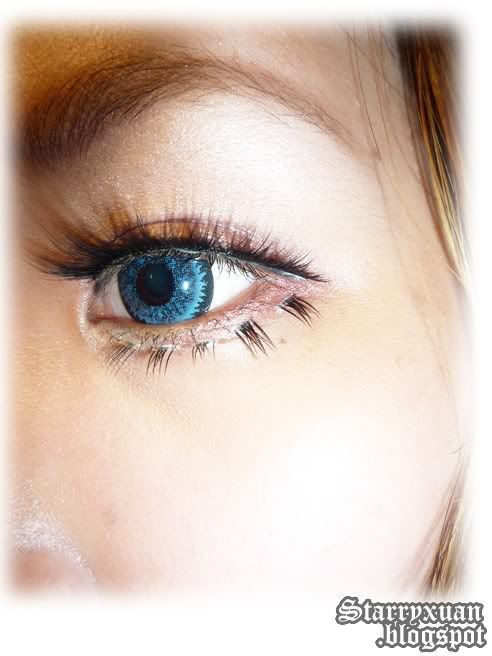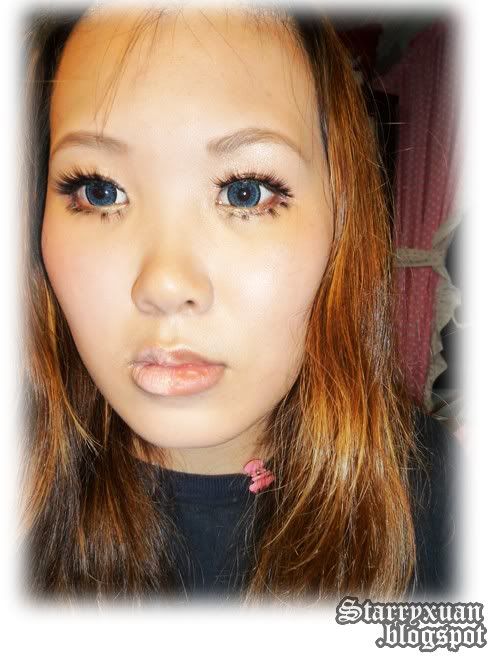 Completed the eyes!
Apply blusher! i use Maybelline mousse in pink frosting as a base and use canmake blusher over it.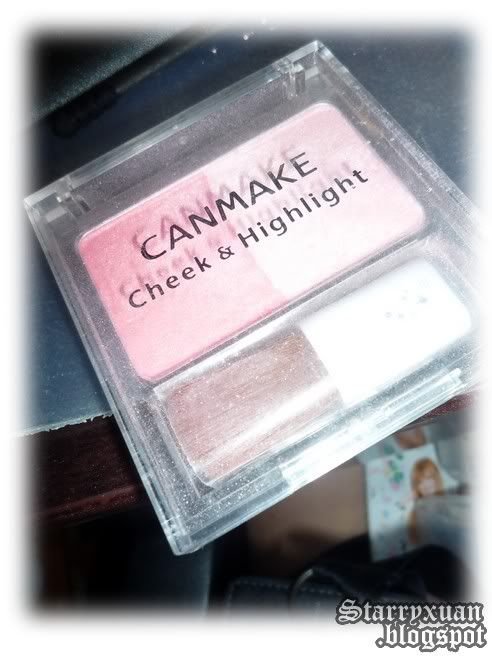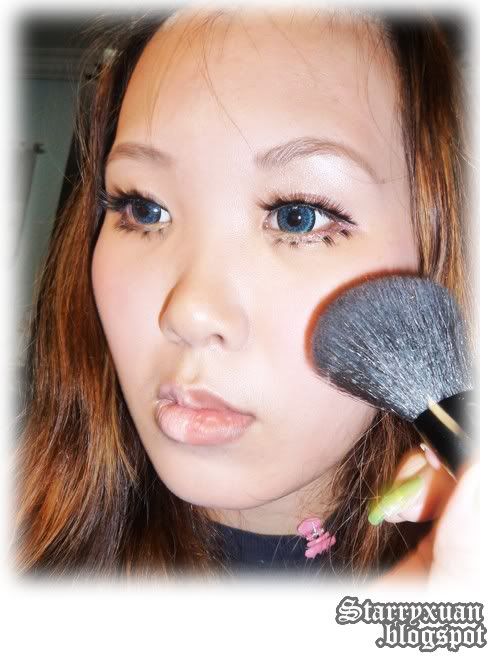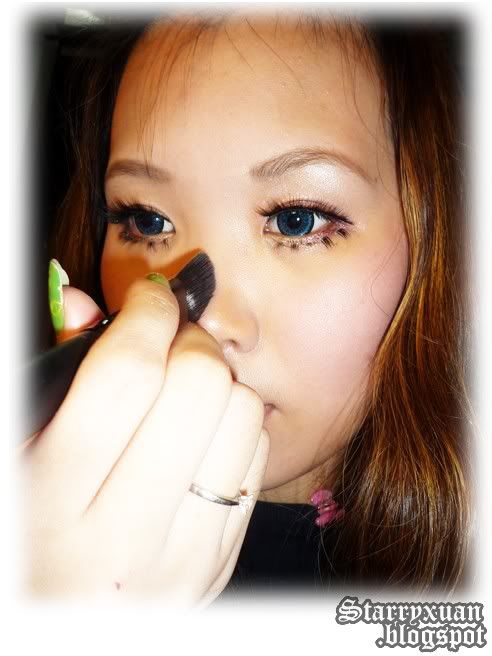 Next, Highlight and contour your face. Highlight the nose, cheeks, forehead to make them brighter. Shade on the jawline for a curvy face.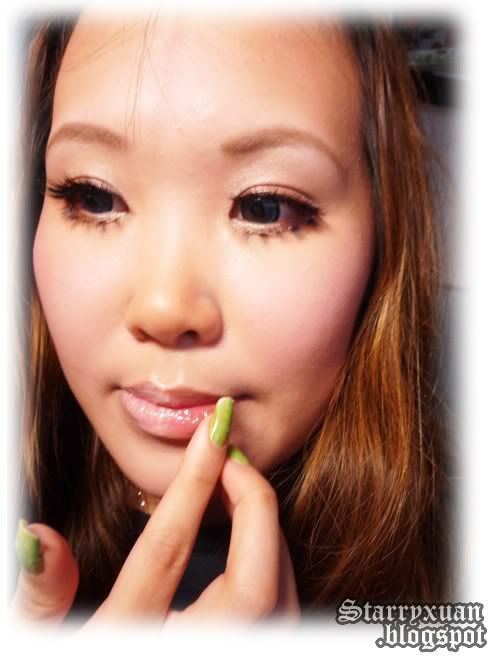 Next up, i apply a lip care on my lips.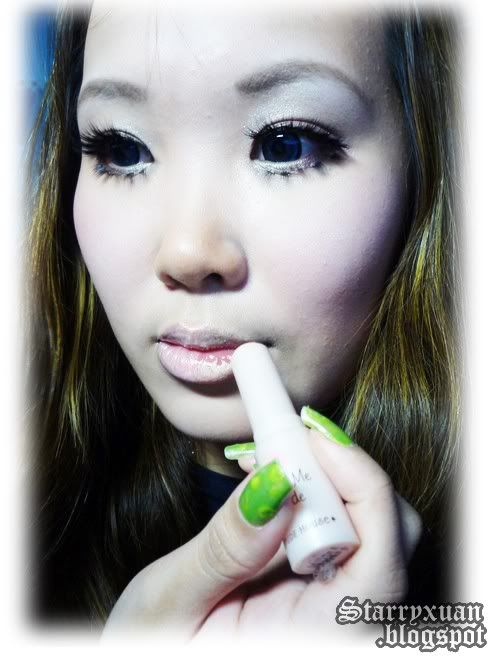 Followed by lip concealer as i really want opaque lips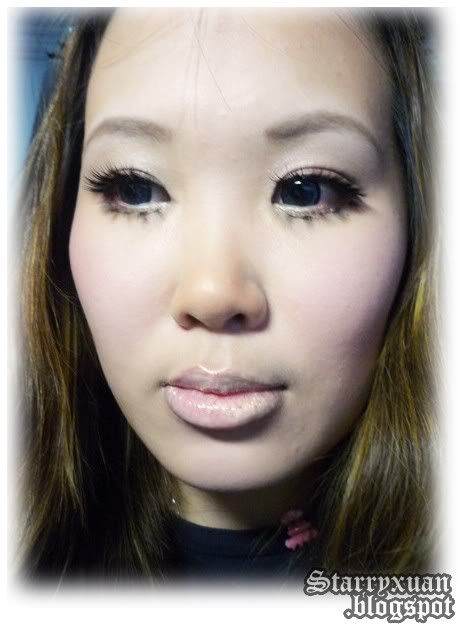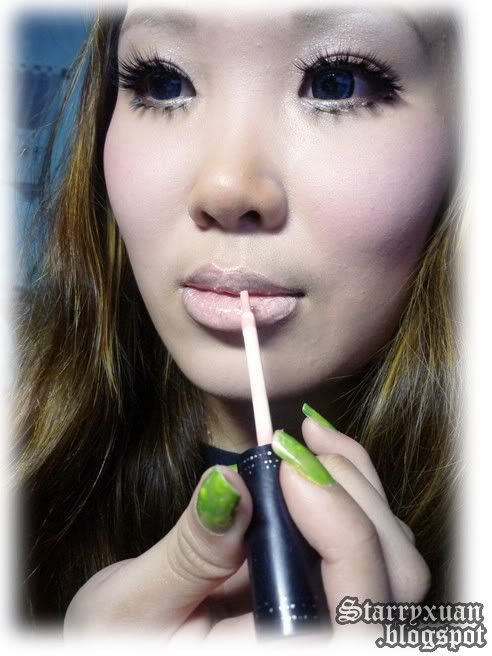 I use Canmake nudy lip gloss on top. It really make my lips light pink
Its done!!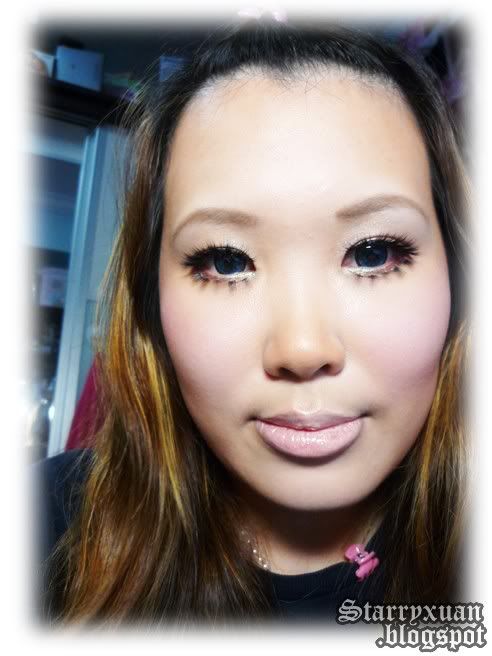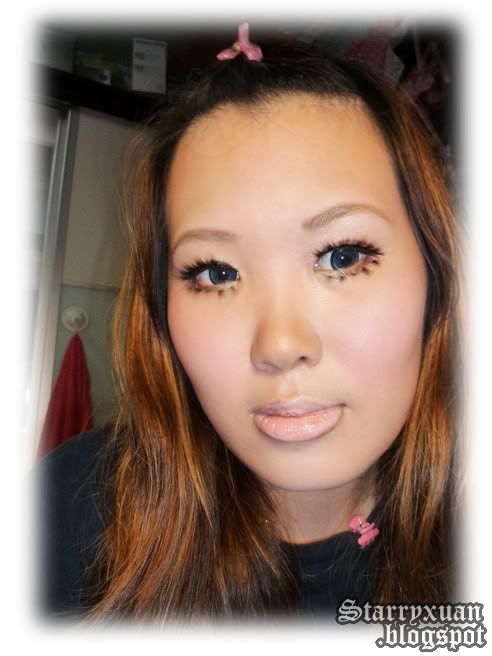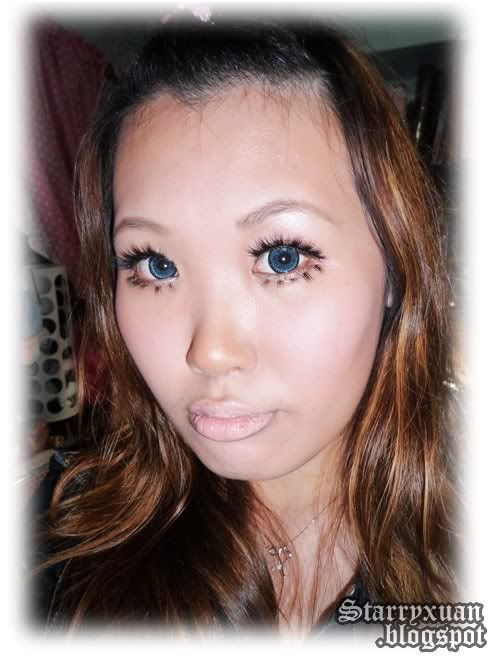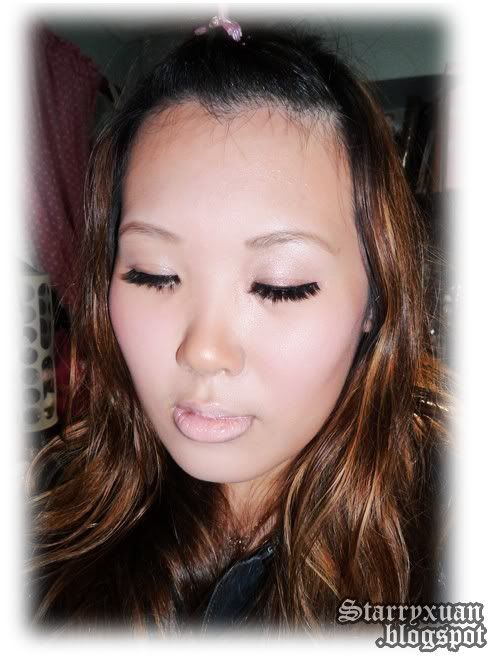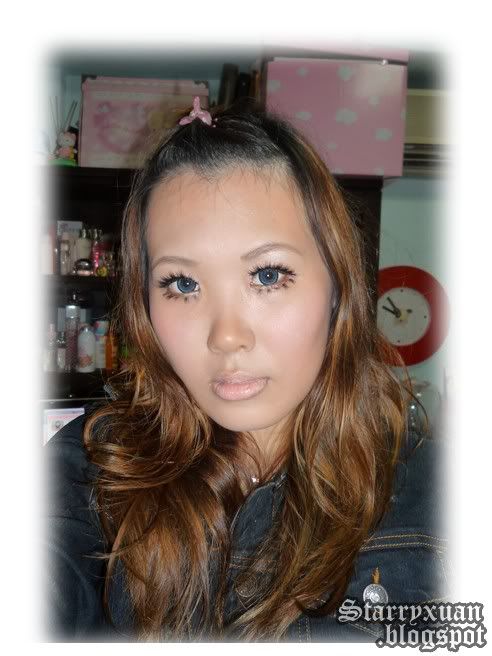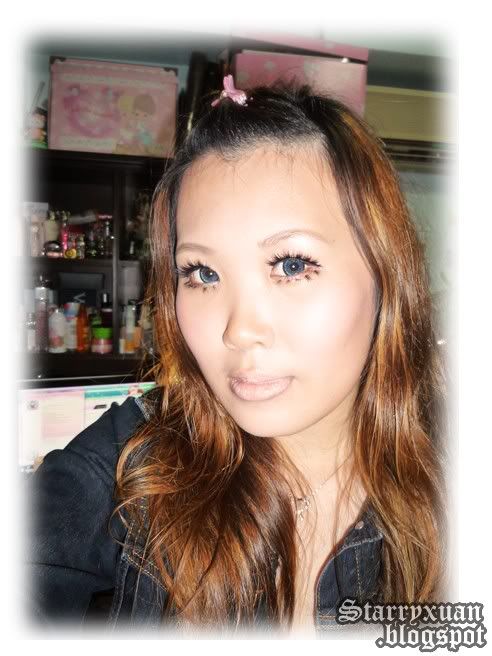 This is why i love lashes! After i removed lashes, it become....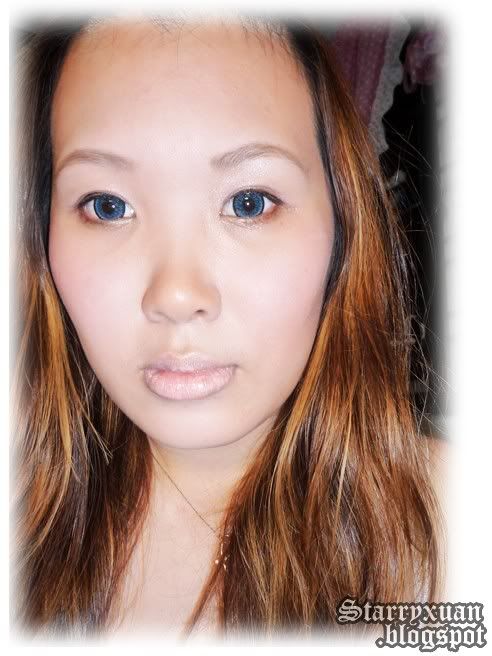 A new giveaway coming up soon =) Please tell me if u like tutorials or not! Would u like to see more? Now i know tutorials are tiring, but happy i made it x)