I have been a big fan of UD eyeliners since last year and i have been collecting bit by bit. My stash isn't huge, but enough to satisfy me :)
The best Eye Pencil ever, ever, ever! Never before has a pencil this creamy and brilliant been waterproof, too. Velvety-soft, this never-before-seen formula stays soft and creamy for blending (about 30 seconds), then dries down to a long-lasting finish that WILL NOT budge. Line eyes with a hint of color or go for the full artistic, multi-hued effect with the wide selection of lush tropical hues, deep metallics and unusually vibrant neutrals. Incredible with Urban Decay Eyeshadows!

Created with 50% moisturizing ingredients suspended in a sophisticated waterproof formula, 24/7 Eye Pencils offer long-lasting color and a dreamy, creamy feel when applied. With Jojoba Oil, Vitamin E and Cottonseed Oil.
Tips: 24/7 Eye Pencils are ideal for lining inner lids because the waterproof formula stays put. Just apply, try not to blink for a sec, and you've got immovable liner.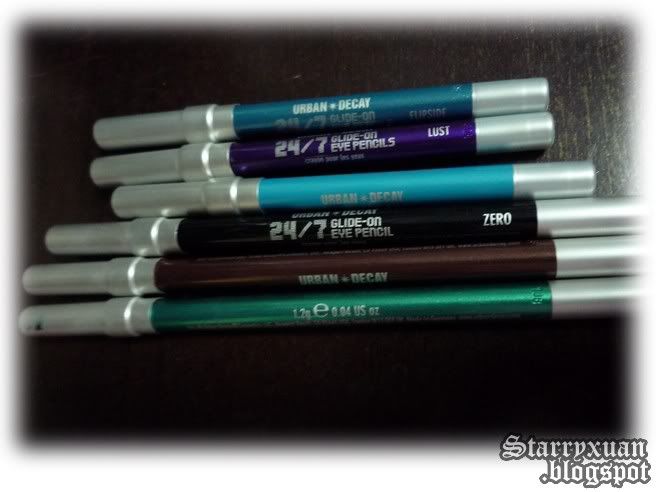 From top: Flipside, Lust, Electric, Zero, Bourbon, Covet
Here are the swatches!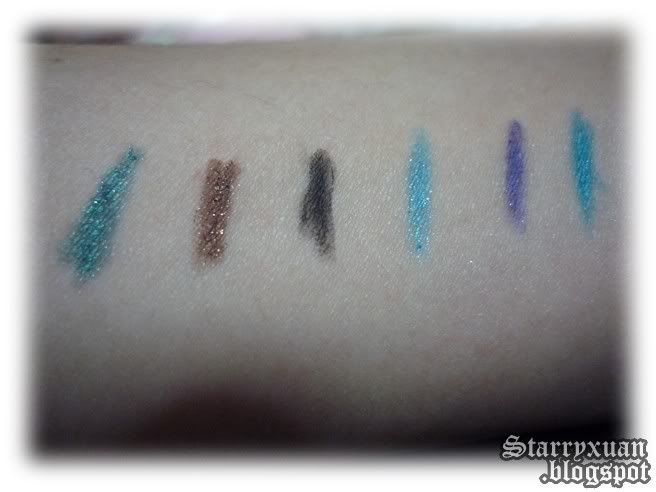 from left: Covet, Bourbon, Zero, Electric, Lust, Flipside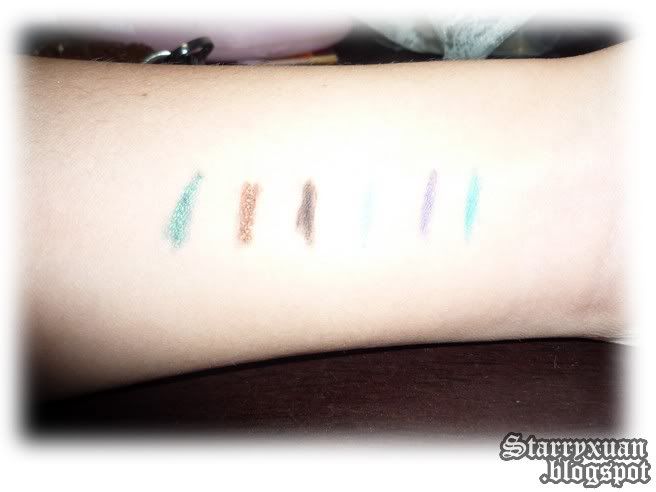 I like em creamy and lasting! they are still there when i get off school, which is like more than 12 hrs! I really wanna have Yeyo color next! Shall wait till their offer! :)
Do you like their eyeliners? recommend me some other colors please!
Disclaimer like to spend money of beauty stuffs and item(s) here are being bought by me. This is based on my personal experience and views and there is a possibility that my experience does not apply on you.