***********************************************************
Do note that these items listed are sponsored but the reviews are purely from my own experience and it may/may not apply to you
***********************************************************
Ginvera
When i first heard of this, it reminds me of the shower gel which i use long time ago, esp the green tea, which is my favourite.
To my surprise, i was sent a few Ginvera products from the
Green Tea Whitening Series
Ginvera Marvel Gel
Ginvera Jade Dark Circles Roll away
Why Green Tea?
Green Tea is a natural anti-oxidant, well known for its anti-bacterial, astringent and anti-ageing as well as UV protection qualities. The Green Tea Extract used in the series has 20X more anti-oxidative power as compared to Vitamin C, providing superior protection against harmful UV rays by donating electrons to the free radicals, rendering them less harmful and reducing UV-related photo-ageing. Vitamin E, one of the main vitamins found in green tea, is also known for its ability to help skin retain moisture to slow down the signs of aging.
Soy Bean?
The new and improved Ginvera Green Tea Whitening Series is also enriched with soybean extract for enhanced whitening efficacies. This unique soybean is fermented with Bacillus Subtilis to produce Cellplus+ (a soft liquid product that contains plenty of amino acids) which has strong moisturizing and whitening properties.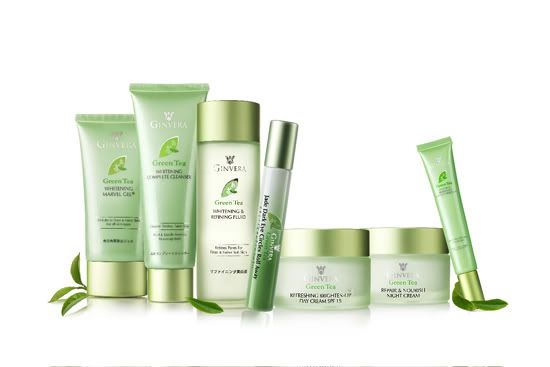 Other AWESOME ingredients
Ginseng
Enhances the cell renewal process while providing hydration and nourishment to the skin cells. Helps brighten up a dull-looking complexion. 
Pomelo Extract
Rich in Vitamin C content, Pomelo Extract provides superior protection from free radical damage and has enhanced whitening efficacies.
Pearl Power
Well known for its whitening and nourishing properties, pearl powder helps to lighten dark spots and blemishes, renew and revitalize skin cells to restore radiance on skin.
Biogel
Exclusive active ingredient to help break down skincare products into smaller molecules for easier and faster absorption by the skin cells .
Ginvera Green Tea Whitening Marvel Gel
*I'm a big fan of whitening products therefore i bold the word :P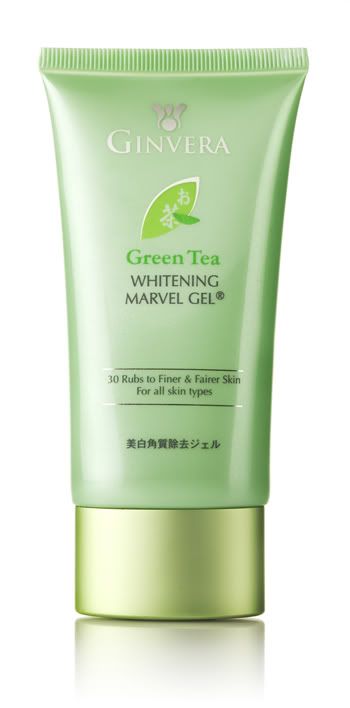 What is it
Ginvera Green Tea Marvel Gel works by specifically targeting the dead skin cells, dissolving and removing the cornified layer of dead skin on the top most epidermis layer. This gentle yet effective exfoliating action
zeros-out blackheads painlessly and helps remove deep layers of dead skin
. When the dead skin barrier is removed, the new skin underneath is revealed, allowing your skin's
healthy radiance to glow from within
. It also helps in oil control to help you stay shine-free the whole day!
How it work
The skin undergoes metabolism and results in the build up of dead skin barrier on daily basis. Exposure to pollution and dirt every day together with the improper removal of makeup and excess sebum will also cause the pores on your skin to be clogged up and results in the formation of whiteheads and stubborn blackheads. In other cases, bacteria infection might also cause inflammation of the skin, leading to skin problems like pimples and acnes. The dead skin cells barrier also obstructs the absorption of skincare products applied subsequently, putting them to waste. In addition, your makeup would not be able to glide on smoothly and might even appear cakey. Thus it is important to remove the dead skin barrier daily for a healthy glowing complexion free from blackheads!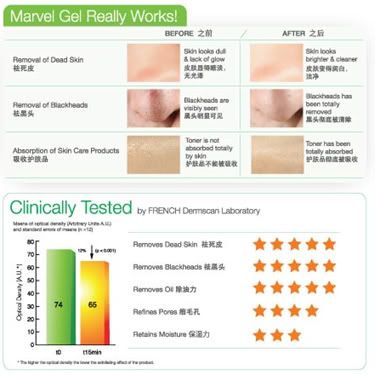 Benefits
1) Helps soften the cornified layer and gently remove the dead skin barrier to instantly reveal a brighter finer complexion.
2) Effectively removes blackheads easily and painlessly in just one step
3) Regulates and helps control sebum secretion for a shine-free complexion whole day long.
4) Whitens and evens out skin tone. Effective in helping to fading pigmentation, spots and acne scars over time.
5) Refines and contracts the appearance of pores to reveal finer, smoother skin.
6) Deeply cleanses pores and helps prevent the onset of skin problems like pimples and blemishes.
7) Helps remove oil seeds
8) Changes dull and rough skin to a smooth complexion, allowing makeup to glide on easily and adhere better to the skin.
9) Helps stimulates skin metabolism, skin looks younger and more supple
10) Allows better and faster absorption of skincare products that is applied subsequently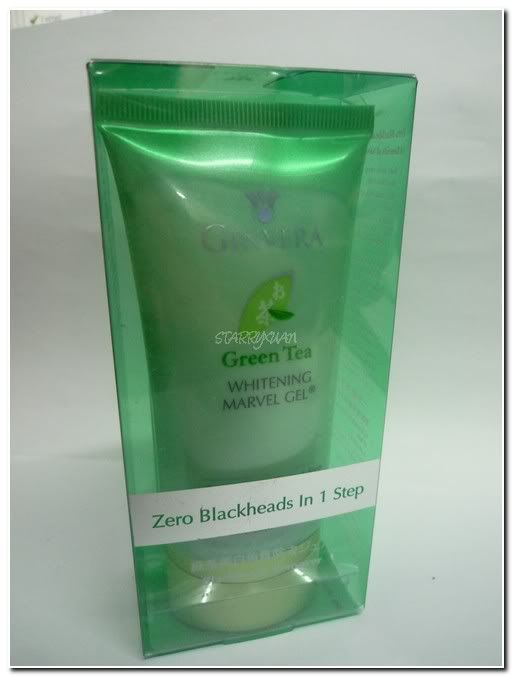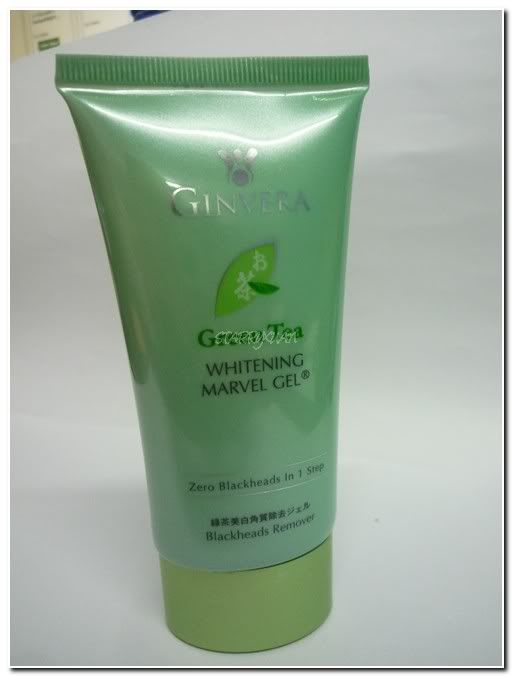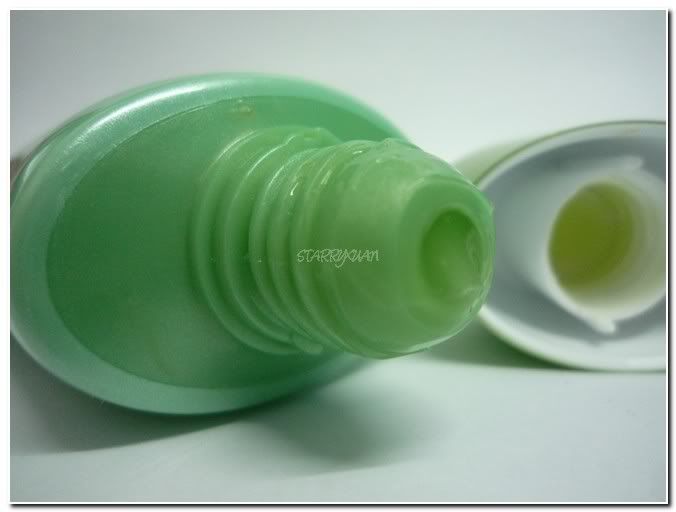 First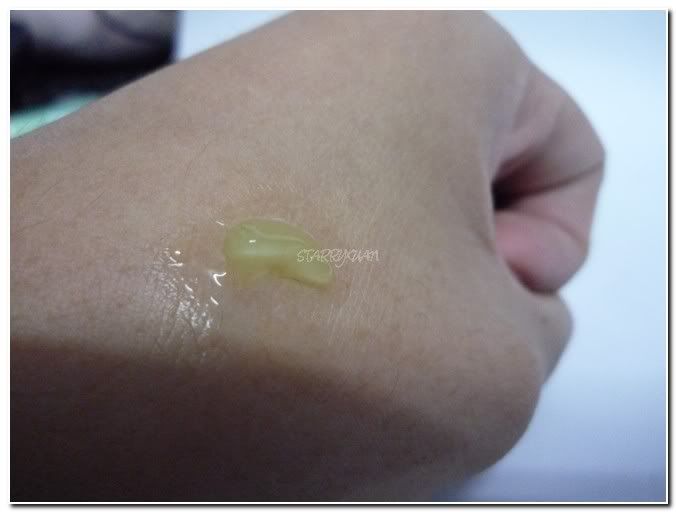 Second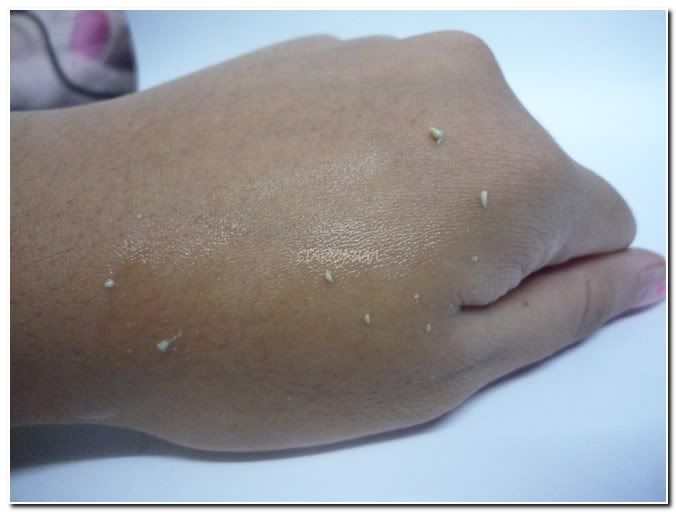 Third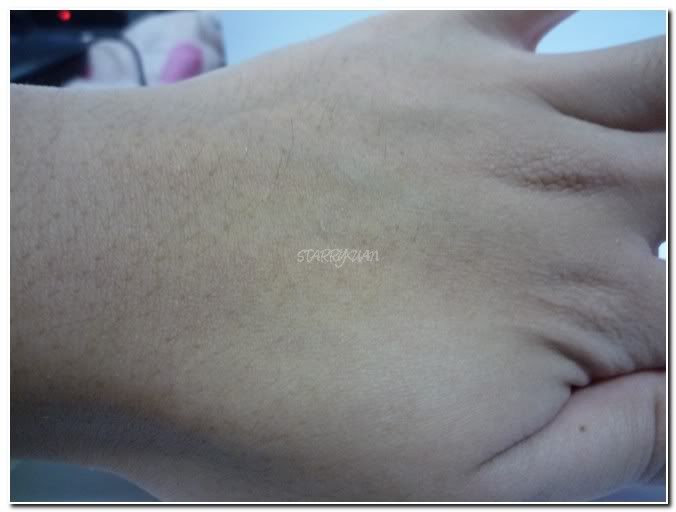 My Review

This is one of my favourite scrub in the morning. As i often put makeup at the day, i'm to lazy to add this step in, but i use this as my first step in the morning. Once i wake up, i will use this to massage my face, and it always make me happy when i see the small flakes come out. (Bye bye dead skin cells) Some flakes are different in color and it feels like the dirts are all coming out and i'm prep-ing my face for makeup later. After cleansing, i can feel that my face is much smoother and softer. I still can't see the whitening effect yet, but i like how it remove the dirt from my face.
You may find it at any watsons, guardian, departmental stores. Retail price at S$16.80 :)
Jade Dark Eye Circles Roll Away

Jade?
Jade is precious gem common in the East. Besides using it as an ornament, it is also believed to have additional beauty and health benefits due to the ample amount of energy within. Therefore, it is commonly used as a massaging tool to enhance health and beauty, especially on the face.
According to ancient Chinese medical book, "Jade has cooling properties. It can help to 'dissolve toxins', nourish skin, improve circulation, eyesight and energize the brain. Due to the emission of energy, Jade is believed to have unique purification and calming properties as well. "
In modern scientific studies, Jade is found to contain trace minerals that are beneficial to the human body. Through massaging using Jade, this energy can in turn be "channeled to the skin and body" to help nourish and beautify the skin.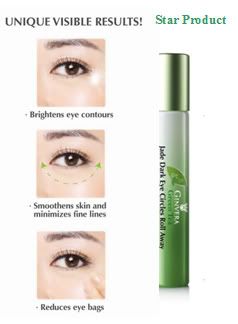 Jade is a very good massaging medium as it contains trace minerals that is beneficial to the skin. Through massaging using the unique Jade ball, energy will 'transmitted' to penetrate into the skin for a brighter eye contour over time. Blended with additional Bio Energy ingredients such as Bio Energy Fluid, Bio Rice Fermentation essence, Royal Jelly as well as various precious herbal extracts like Ginseng and Pomelo, the Bio Jade Dark Eye Circle Roll Away deeply nourishes the skin around the eye contours while helping to "roll away" the dark circles effectively.
Benefits
• Rolls away dark eye circles over time
• Brightens & firms eyes contours
• Helps prevent and minimize the appearance of eye bags, crows feet and fine lines
• With a more nourished and revitalized eye contour, eye makeup application becomes easier!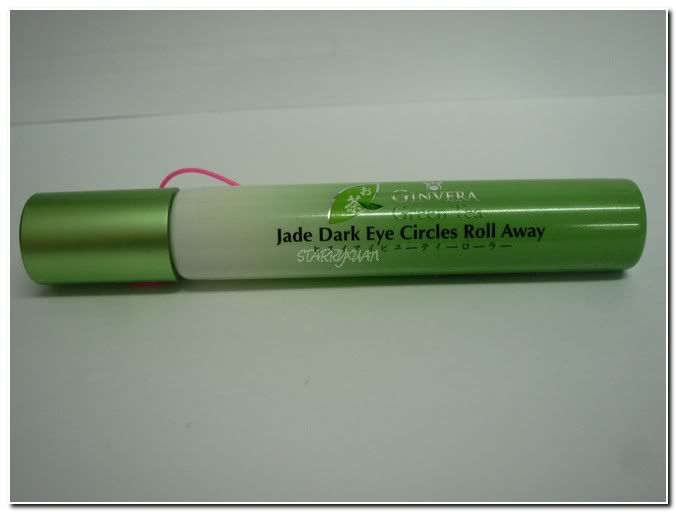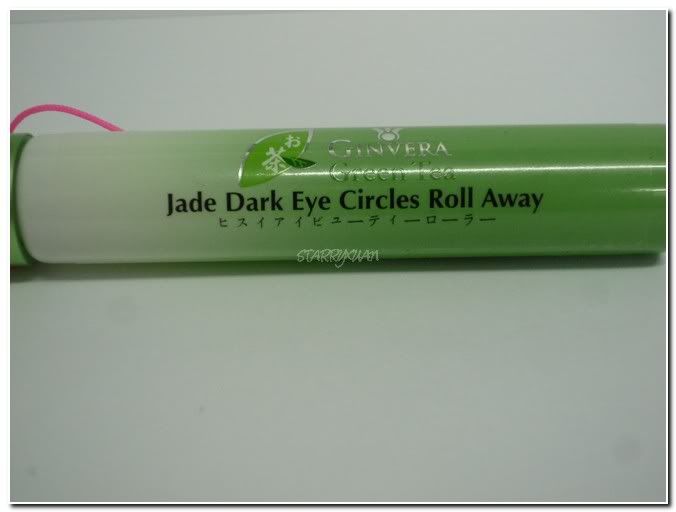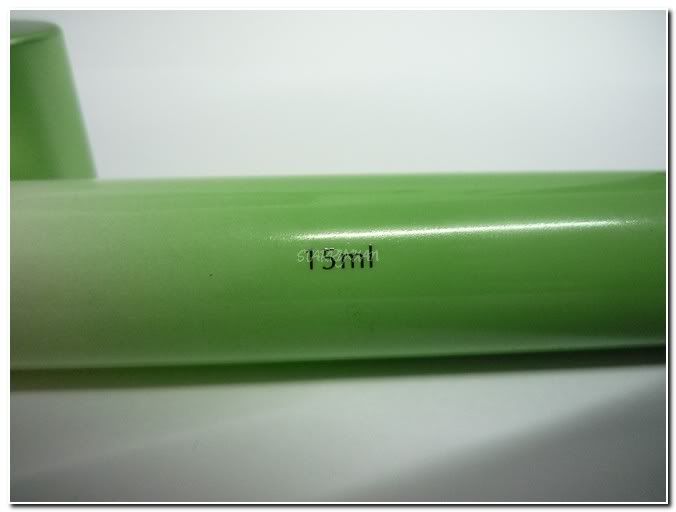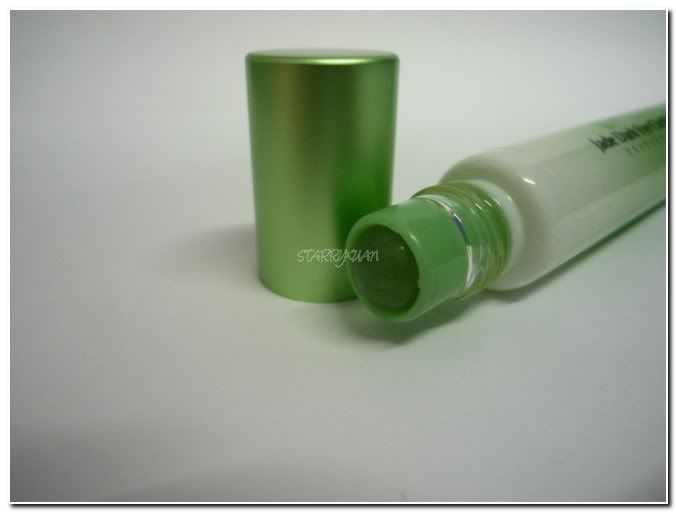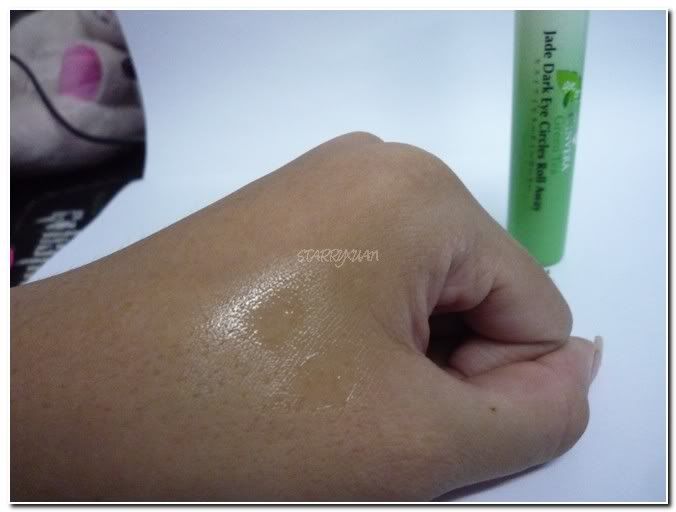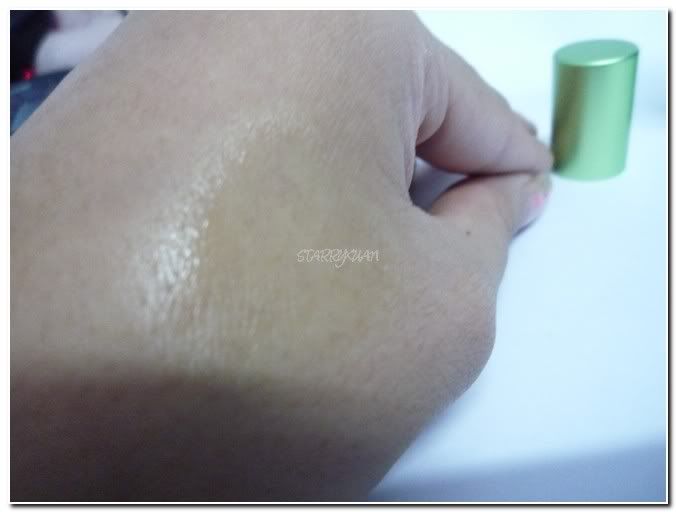 My Review
My grandma always tell me jade is good for skin and i did wore it for awhile when i was younger. I really like the cooling effect the jade is and i think they are really good for skin. I was amazed at the Jade roller for the eyes (i love rollers more than creams now for eyes) as they are easy to apply and handy. I can see my panda trademark (dark circles) lighten up gradually and i don't look tired. No stickiness, greasiness (which i experienced from lots of eye creams) and my eyes did indeed look better.
You may find it at any watsons, guardian, departmental stores. Retail price at S$18.90 :)
Join Ginvera Facebook for offers now!
For my wonderful readers who read it through till here :P (sorry only for SG)
grab your free Marvel gel here now!
Don't forget to join my giveaway~