Want pretty lips?
But i have these lips now!!!! T.T
LIP BALMS TO THE RESCUE!!!
Special thanks to The Sample Store for saving my chapped lips by sending them to me to try out! Aren't them a beauty? Now im loaded with lip balms!
Why do i want awesome lips?
- All of us need KISSABLE Lips!
- chapped lips make me feel haggard!
- Easier to apply lips/gloss with awesome lips :D
My awesome freebies!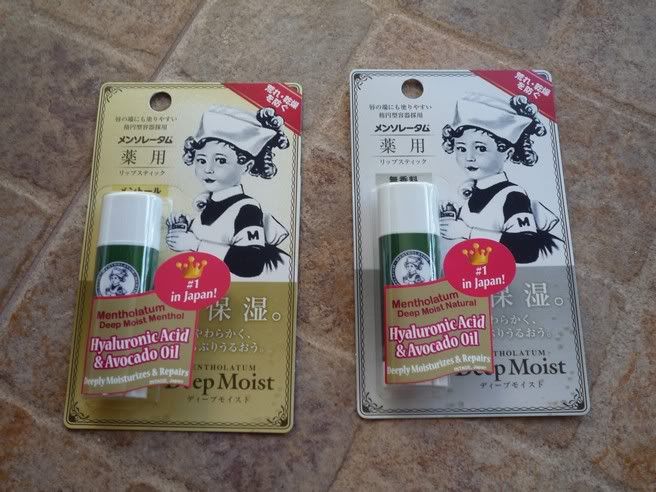 MENTHOLATUM DEEP MOIST
ROHTO-MENTHOLATUM launches
Deep Moist,
a uber ultra hydrating lip balm filled with Hyaluronic Acid! (sounds familiar? :P)
Mentholatum launched the
Mojitate Kajitsu
and
Deep Moist
lipbalm series in Japan in 2003 and 2008 respectively. It was listed as the
#1 Top Selling Lip Balm
brand in Japan (2006-2009).Having reached Singapore's shores on the 12th of July, it is exclusively available at Watsons now!
Key ingredients to its success
Hyaluronic Acid

ingredient which forms a smooth, moisture locking shield for softer baby lips. it can hold 1000x its weight in water. (gasps!)

Shea Butter

heals the skin and gives soft texture to the lips. (mwwahh)

Jojoba Oil

gives whole day hydration to the lips!
Mentholatum Mogitate Kajitsu (#1 Bestselling Lipbalm Brand in Japan)
Mogitate Lip balms!
It is introduced in 2003 and its well-loved for its exotic and exciting flavours and vibrant packaging!
"mojitate" means "fresh" and "Kajitsu" means "fruits"! The
juicy
lip balms is filled with Natural Goodness and Honey! It comes in a total of 5 different fruit mixtures!
Strawbery
Grape & Berry
Orange & mango
White Peach
Lemon & Lime
Mogitate Kajitsu is contains essential minerals and vitamins for the lips and not forgetting Honey, which heals & renews the lips! Use Mogitate Kajitsu to get soft, supple and kissable lips! :D
The Mojitate Lemon & Lime is my current favourite! It has a refreshing smell, citrus and perks my lips/myself up whenever i apply it. I left the others at home and brought L&L with me everywhere! :D It really helps my cracking lips and moisturize them! No more cracking lips for me!
It is available exclusively at all Watsons Store in SG :)
Try the Mojitate Kiajitsu & Deep Moist lipbalms today too & share your experience story to stand to win attractive prizes! Available at any Watsons outlets near you!













Contest period: 16 August 2010 - 17 October 2010
End this post with my face! FOTD! :D