Hi everyone!
I'm so sorry for slacking out on my blog. I've been really busy recently and time really pass very fast! It's already August! :)
I received a sample size of Cellnique Advanced Bio Renewal Masque a few weeks ago and i just got a chance to try it. I heard many great reviews about this masque and i'm really curious! My skin isn't that great right now, and i guess due to the stress, evil acnes and pimples are popping like no tomorrow. :(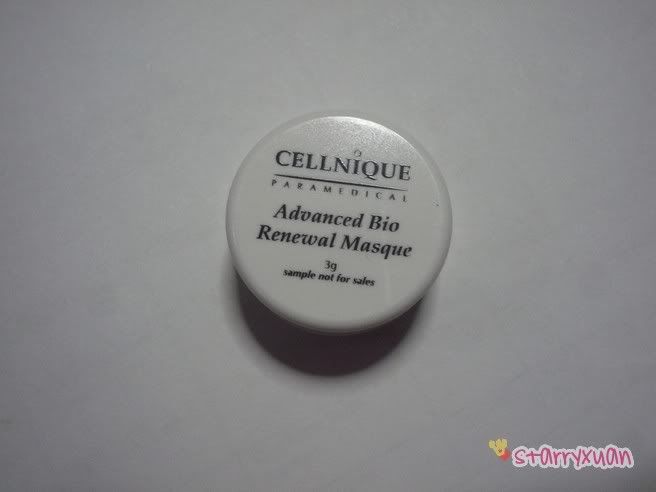 This is the sample size which i got and the orginal packaging look like this
Price: USD$51
Size: 50g

Description:
This unparalleled scrub masque is formulated with bio-captured fresh fruit enzymes and acids complex. It works effectively in exfoliating dead cells, optimizing cellular renewal performance and deep pore cleansing, thus revealing a softer, fresher and healthier skin.

What does it do:
• Exfoliates dead skin cells and deep pore cleansing
• Optimizes cell renewal performance
• Slows down aging process
• Instant lightening, brightening and whitening effects
When i first open it, it really look creamy.. there are tiny beads inside. It's a clay type mask and... it doesn't smell really nice. The smell is still acceptable but, i love nice smelling masques (personal preference). The masque is used after my cleansing and toner the amount i had was only for about 3 tries. I left it on about 15 to 20 minutes before i start to massage and rinse. Here is the steps:
It really does good in making my face glow (sorry i didn't have a before and after shot), and i can feel my skin feeling refreshed and clean after rinsing. Is it me or i feel that my skin did brighten up after every use! **touching my face now**
Overall, I really like this masque! ♥♥.♥♥ but the price is on the negative end. It's kind of costly. I can't really comment much about this product as i have tried it twice. Try it if you can afford. I really like it :)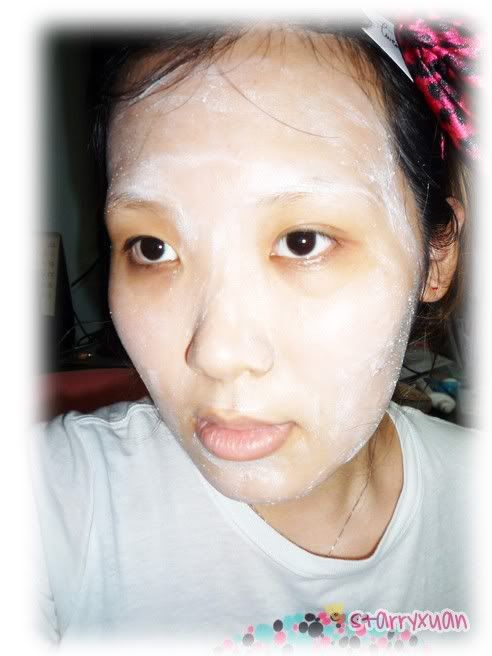 Ingredients : Purified Water (Aqua), Glycerin, Kaolin, Glycolic Acid, Glyceryl Stearate, Cetyl Alcohol, C12-20 Acid PEG-8 Ester, Polysorbate 20, Potassium Cetyl Phosphate, Papaya (Carica papaya) Enzyme (Papain), Phenoxyethanol, Trithanolamine, Caprylyl Glycol, Titanium Dioxide, Citric Acid, Pomelo (Citrus grandis) Peel Extract, Pineapple (Ananas sativus) Fruit Extract, Acrylate / C10-30 Alkyl Acrylate Crosspolymer, Fragrance, Disodium EDTA, Methylparaben, Ethylparaben, Propylparaben, Butylparaben, Potassium Sorbate.